Sister Nivedita Swasthya Seva Kendra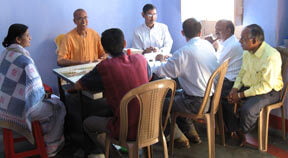 HOMOEOPATHIC AND ALLOPATHIC CLINICAL SERVICE
We all are aware of the importance of medical treatment and health care. But how expensive it is nowadays! Even many semi-middle classes and middle-class people can hardly afford satisfactory medical treatment, what to speak of the downtrodden and poor. In India the downtrodden and poor people prefer to die of their diseases rather than going for medical treatment which entails huge expenses beyond their means. It has been observed that Preventive Health Care saves the family members from a lot of expenditure. For example, if Cataract is detected timely and it is operated successfully, the Senior Citizens (aged persons) in a family can carry on their daily routine without depending on other family members. As the proverb goes - 'A stitch in time saves nine'... a small routine checkup like Blood pressure checkup, Blood Sugar checkup, normal checkup for old-age ailments and other problems, some minor treatments can give a lot of relief to the ailing people, especially the downtrodden and persons living below the poverty line.

With this objective in view, Free Health Care Programme for the slum people, especially the children and aged has been undertaken under our Integrated Community Development Programme. At our Sister Nivedita Swasthya Seva Kendra, the patients are treated by a team of qualified doctors both in Homoeopathic and Allopathic disciplines (Allopathic - ENT, Eye, Endocrinology, Gynaecology, Pediatrics and Medicine etc.).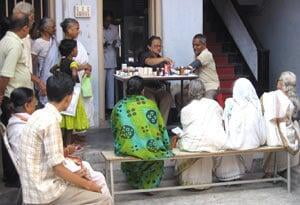 As running this Health Care Units entail a huge expenditure and financial burden upon us day by day, we appeal to all kind-hearted persons and our well-wishers to lend their helping hand to us generously.
All donations are exempt from the Income Tax under Section 80-G of the Income Tax Act, 1961. Cheques/Drafts may be drawn in favour of "Ramakrishna Math, Baranagar" and sent to our address.

Your kind donation may also be sent online N.E.F.T./R.T.G.S. to our Savings Bank Account No. 912010066229839 with Axis Bank Limited, Baranagar (IFS Code No. UTIB0001592) [Click "DONATION" tab in the above].